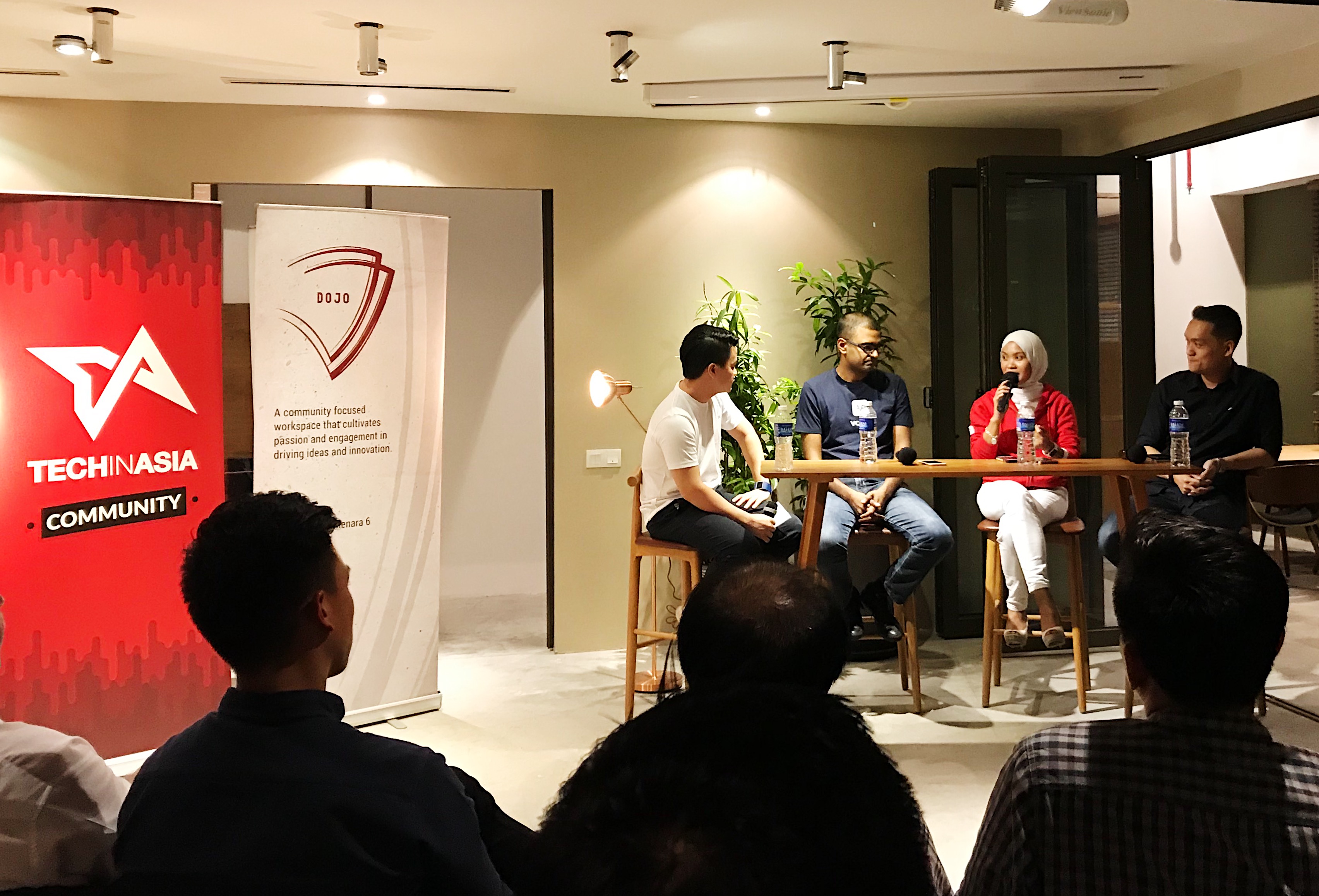 You head to work in the morning with just a smartphone in your pocket. You hail a Grab to work. In the car, you order, pay for, and pick up your morning coffee. Then, you enter your office building even without an ID card. You accomplish all this with nothing but your smartphone–no phone calls, cash, credit cards, paper coupons, or loyalty cards.
For most living in China's first-tier cities, this is the value, ease, and convenience provided by their mobile wallets. Needless to say, when AliPay and WeChat announced their entrance into the Malaysian market this year, anticipation was high.
Tech in Asia City Chapters (Kuala Lumpur) recently organized its first founders' meetup, discussing the future of digital wallets in Malaysia. The panelists were from WeChat, Boost, and vcash, three Asian startups that have their hands in the local wallet ecosystem.
The future of digital wallets in Malaysia
Boosting wallet stickiness
For digital wallets to have more value, providers must focus on their users' everyday lives. But encouraging a change in behavior is no easy task.
Ungku Liza, the lead for the strategic partnerships and operations arm of Axiata's digital wallet, Boost, agreed. According to her, "If you were to promote payment as payment per se, it would never take off." For it to be sticky, she recommends a more holistic approach to fulfilling a user's daily needs.
For example, Boost has started an on-the-ground marketing campaign with its partner Tiffin Food Court (a youth-focused local food festival). The mobile wallet was the food festival's cashless partner and was used to conduct all transactions. "We know Malaysians love to eat. So, that was one avenue that we tapped on," Liza shared.
WeChat's game plan
In early 2018, WeChat is planning to roll out its payment services in Malaysia, which will be the first country out of China to get the service.
No stranger to the local payments industry, WeChat Pay's Malaysia CEO, Jason Siew, explained that their experience in China will help with their localization efforts.
According to Siew, while WeChat is inherently social, their secret sauce is their Hong Bao (red envelope) application and how they "gamify it."
"For example, when we give out Hong Bao to a group chat with randomized amounts to each user, we amplify the network effect and create a user-get-user outcome," Siew said.
Localization strategies
Mobile service provider Digi's chief digital officer and head of Digi-X, Praveen Rajan, believes that a localized strategy is paramount to drive adoption. According to Rajan, outside Kuala Lumpur "there are key satellite markets that require localized solutions for them to go cashless." On top of that, vcash (Digi's mobile payment app) gets to leverage the company's distribution channels by pushing more than 5,000 touch points as deposit collection points for vcash.
When asked if targeting areas outside Klang Valley, an area in Malaysia centered around Kuala Lumpur, makes business sense, Rajan said that it all comes down to education. As an example, he brought up Myanmar, a relatively "less developed" country with a skyrocketing smartphone penetration rate. According to him, parts of the country's population have already started to go cashless. "The take up is actually more successful when we go out of Kuala Lumpur to other key satellite markets. There is a difference in locality which will be our marketing challenge," Rajan said.
Financial inclusion
Going cashless is one way to achieve financial inclusion for the underserved segment in Malaysia.
According to Liza, "Payment is hygiene, and it happens only after every transaction." For her, setting up good payment foundations would open up numerous possibilities for remittances, micro-insurance, and micro-lending.
Since their launch, Boost has tied up with Unlockd (a mobile platform that rewards users when they unlock their phones and view ads), MerchanTrade (a digital payment service), and Pouch Nation (a tech solution to relieve event pain points), all clearly showcasing their plans to roll out a comprehensive ecosystem play via Boost.
Pushback from banking partners
While banks may be concerned by the draw of mobile wallets, Rajan sees that the difference in expertise allows both parties to work together. "We do not have the competencies of a financial institution," Rajan said. "What we have is our distribution channel to 12 million consumers."
Siew also pointed out that the "street seller" market could be too costly for banks to serve, and that is where e-wallets could come into the picture:
"Cash in circulation is a problem for banks. Putting cash in ATM machines costs money, and moving and distributing cash is a drag on their earnings as well. What banks want is for you to use their debit cards and credit cards. If we are driving usage for bank cards, they would be more than happy to have us as their partner."
Collaboration in the midst of competition
While WeChat has about 20 million active users in Malaysia, Siew was quick to reject the notion that they can do this alone. According to him, while there were a lot of campaigns and subsidies in China, they did it with other players. "The competition between players is essential in driving adoption," he said.
Rajan pointed out that interoperable wallets need to happen but that industry standards might have to come first before such collaborations. He even went one step further saying, "Cash is what we are really competing with."